Spiritual Transformation
Independent Study Certificate Course
Subset Module of the Coaching Certification Program
Master Coach Hu's Spiritual Transformation Course was created for students who want to experience advanced Transformative Coaching Methods comparable with those taught by influential spiritual leaders, gurus, and sages such as Ram Dass, Tolle, Singer, Dyer and Chopra to name just a few.
"Trans-form-ation means 'to go beyond form' to a level of conscious understanding
that the real you exists beyond the physical form of your human body and mind."
-Master Coach Hu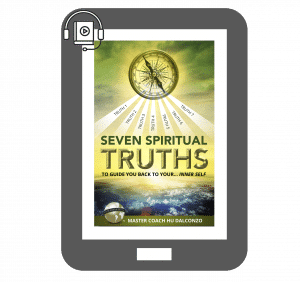 The following track comes from the Seven Spiritual Truths' Introduction. In it, Master Coach Hu discusses why transformation requires a shift in consciousness.
If You…
Seek a greater understanding of the real you, which is the aspect of you that witnesses what you experience
Have a deep desire to understand what your spiritual purpose for taking a human birth is
Are willing to comment to do this course's life-altering exercises to deep dive into the reasons why you do the things that you do…
Then this course will help you Paradigm Shift into a Higher Plane of Reality, and your psycho-spiritual rewards will be that you will permanently alter the way you- Feel,Think and Act.
Included Textbooks
These life-altering textbooks are part of the HuMethod™ Certified Spiritual Life Coaching course [CSLC] and are designed for Holistic Healers who seek self-empowerment for themselves and their clients. Since the Spiritual Transformation course is a module of the CSLC, you have the option to matriculate to the certification course and receive tuition and assignment credits.
The Spiritual Transformation Course is Life-Altering Because:
You will learn how to transcend your unique psycho-spiritual karmic 'learns and burns'.

You will discover your innate capacity to heal and the specific steps to take to "clean the slate" and create what you want.

It teaches you to integrate these powerful techniques into other holistic healing modalities.
Course Details
Course Type- Independent Study
Course Length- Self-paced. The student has 1 year to submit course requirements for their certificate of completion
Pre-Requisite- None. This module can be taken individually or as part of the Spiritual Life Coaching certification course
Tuition Credit- Available tuition credit if the student choices to matriculate to the next module or the Spiritual Life Coaching Certification course
Requirements Credit- If the student matriculates into the Spiritual Life Coaching certification course, course assignments can be transferred
Included Materials
The Awakening, a Transformational Love Story softcover
Seven Spiritual Truths softcover and audiobook
Course Syllabus and Instructions
Spiritual Transformation Life Coaching Certificate of Completion 
*Included Eligibility to Be an AADP Board Member- If you matriculate to the Spiritual Life Coaching Course, the requirements from this course will count towards fulfilling the board requirements to be an AADP Board Certified Member.
The Key to YOUR Success Is Commitment
The Moment you Commit the Universe Aligns to Help You;
whereas hesitancy, the chance to draw back, creates feelings of loss and ineffectiveness.
The Truth is if you have the Courage to Commit to Fulfill Your Spiritual Reason for Living
then in a few short months you will be able to say with a big smile on your face…
"Thank God that I Committed To Do The Work I Was Born To Do."
Enroll & Gain Immediate Access
$295+ S&H Spiritual Transformation Independent Study Certificate Course
Want to Read Excerpts From
Spiritual Transformation's
Course Textbooks?
Download Your Free Copy
Enroll & Gain Immediate Access
$295+ S&H Spiritual Transformation Independent Study Certificate Course