Self-Mastery
Independent Study Certificate Course
Subset Module of the Coaching Certification Program
This Certificate Course was created for students like you who want to learn transformative Coaching methods taught by the most influential spiritual leaders, gurus, and sages of our time. It is for those seeking a greater purpose, self-alignment, and who want to build a lucrative practice helping others create change in a meaningful and permanent way. It is for those looking to invest in themselves personally and professionally. This is a sub-set module of the Spiritual Life Coaching certification program.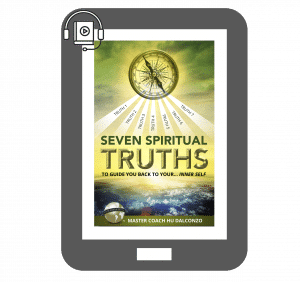 The following track comes from the Seven Spiritual Truths' Epilogue. In it, Master Coach Hu discusses why you need to form new habits and dis-create old habits before your goals will manifest. You can find even more on this subject in Chapter 2 of Self-Mastery, a Journey Home to Your Inner Self.
Included Materials
These books are also elements of the HuMethod™ Spiritual Life Coaching certification course.
A clinically proven training system designed for people who seek to empower themselves and others. 
Use the Self-Mastery Course To Learn:
How to manifest Self-mastery techniques into your own life

How to start to build your own Coaching practice

How to integrate these life-altering Coaching techniques into other holistic healing modalities

How to implement advanced Life Skill Lessons with clients like, Why Affirmations "Alone" Don't Work and what you need to do to make them work
How to facilitate empowering Conscious Creation and Dis-Creation Exercises to Clean the Slate of the Mind

How to communicate using your intuitive Language of Feelings

How to implement Self-parenting Exercises that will help your clients fulfill their Emotional Dependency Needs that were not met during childhood

How to co-create spiritual relationships that support one another's growth
Course Details
Independent Study- This course is taken at home. Course requirements can be completed and submitted up-to one year from date of enrollment.
Can be taken as part of the Spiritual Life Coaching certification program or separately.
*Tuition Credit toward the certification course.
Requirements Credit- Course submissions can be transferred to the Spiritual Life Coaching certification course.
Included Materials
Self-Mastery, A Journey Home to Your Inner Self textbook & audiobook

The HuMan Handbook softcover & audiobook

Course syllabus and instructions

Self-Mastery Life Coaching Certificate based on Holistic Learning Center's standard of excellence.

*Included Eligibility- AADP Board Member- If you matriculate to the Spiritual Life Coaching program, the requirements from this course will go toward meeting the board requirements to be an AADP member [HLC's accredited association].
The #1 Coaching School in North America
After several decades of field experience, HLC created Clinically Proven,
Proprietary Coach's Exercise and Success System that is taught to our students
by Experienced Instructors, to Ensure You Will Learn What You Need to Build a
Successful Practice so You can Do The Work You Love as an Empowering Career
Want to Read Excerpts From These Books?
Download Your Free Copy